Paul Ramsay
Fragaria prelude:
a small show of paintings
from 18th September to 28th October 2009
Scott Building Foyer,
University of Plymouth,
Drake Circus,
Plymouth, Devon PL4 8AA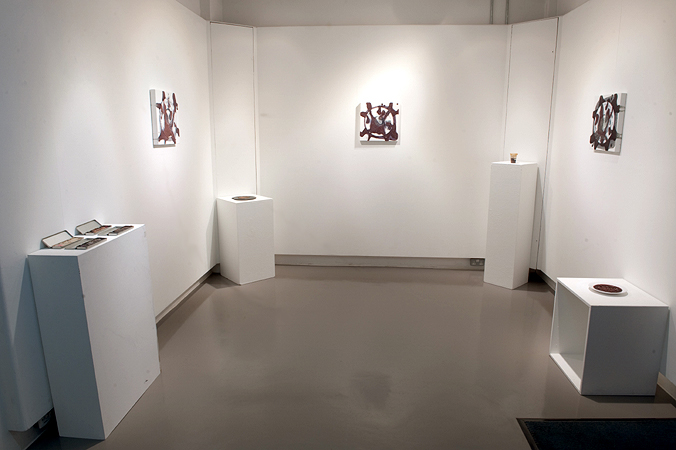 photo: Helge Mruck
click on the above photo to see a slideshow of images
Paintings (on wall):
1./ Raspberry with salt on 12" record painted white*
2./ Blueberry with salt on 12" record painted white*
3./ Blackberry with salt on 12" record painted white*
* with acknowledgements to Ellie Parker for providing these records, ready-painted with emulsion.

Work on plinths:
4 Paint tins [pitara, red plum, strawberry, raspberry]
Fragaria (island)
Periodic Review
Cerasum
These speculative pieces have grown out of my previous explorative practice of combining sodium chloride (salt) with water-based paints - a practice which enables me to work in a space between chance and control in my artwork (and runs parallel to my work with indeterminate music composition).
During the Summer of 2008 I began to use fruit, first as an admixture to my acrylic/salt mix, then eventually realising that fruit alone provides all of the essentials of commercial paints for my purposes: hue, texture, a covering medium etc. while also returning paint to its roots: poetic yet fallible.
The application of fruit/salt to a variety of surfaces has generated the possibility of my developing a vocabulary of objects in relation to form (e.g. the square, the circle) and content (meditations on chance and composition, the poetics of the gramophone record, the act of painting and in the case of 'Cerasum', sexuality).

© 2010 Paul Ramsay